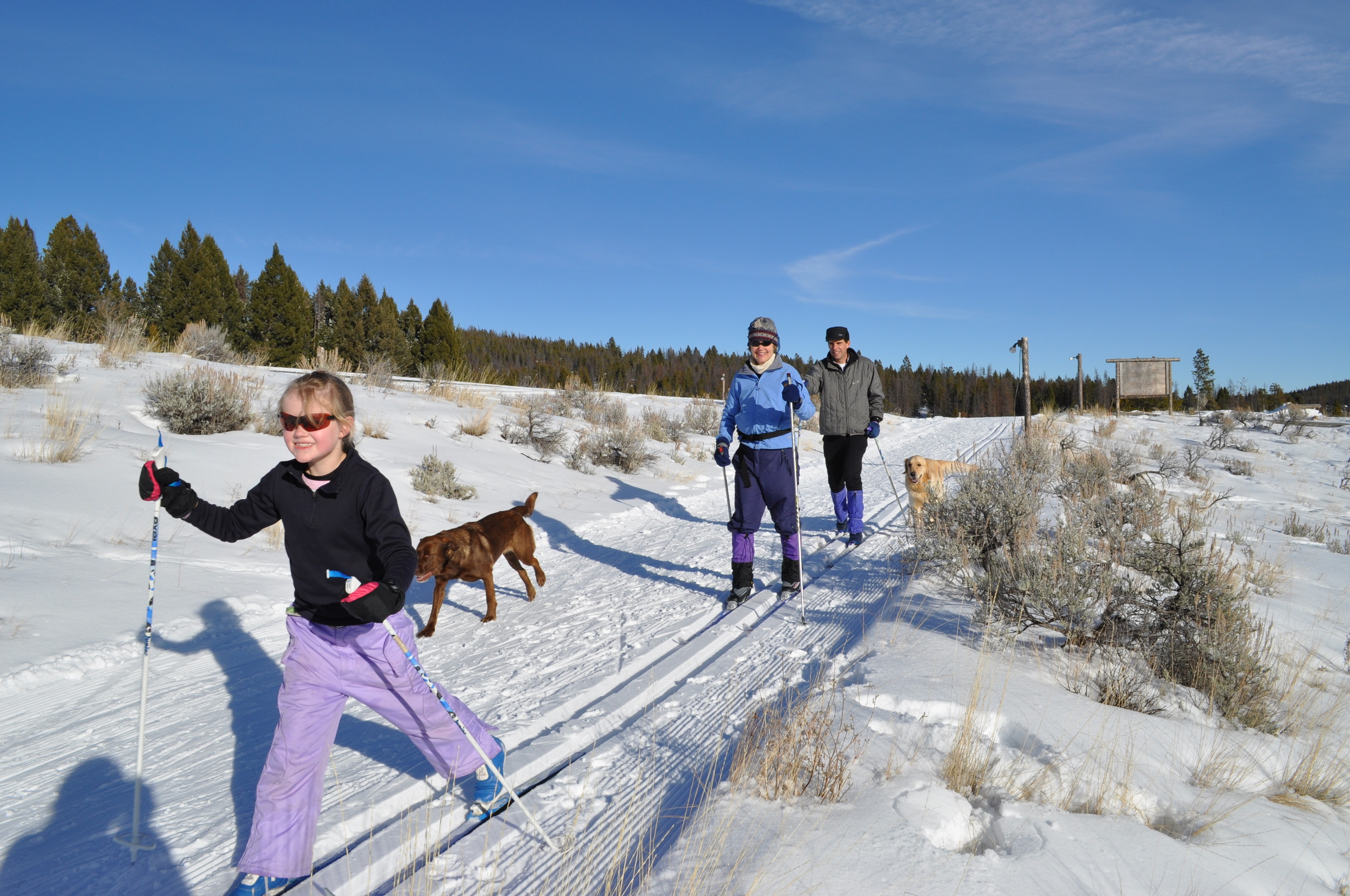 Rolling terrain framed by large granite outcrops amidst our private valley are all hallmarks of skiing at Homestake Lodge. The 35+ kilometers of trails at Homestake Lodge are kept narrow to provide skiers an intimate experience with nature. They are just wide enough for our state of the art Pisten Bully Paana grooming equipment to do its job. Most trails are set with a classic track and a skate lane. Some of our trails are just six feet wide and these are groomed with a snow machine and Ginzu groomer with track pan. You'll love these narrow trails while you explore the more remote areas of our valley. If you want Majestic mountain views ski up the pass where the Tobacco Root Mountains will greet you with their snowy peaks.
If you like to ski with your dog, there are 15 kilometers of dog friendly trails. Check the trail conditions to be sure the dog trails are open for skiing. It typically takes a few weeks after we open for the season for the dog trails to firm up.
Trail Passes, adult $15-, youth 6 & under $8-, Lessons group, $35-/person, private $65-, XC Rentals, adult $20-, youth $12-, Snowshoe Rental $15-
Information on the Elementary School and Junior Ski Club Programs is available through the links towards the bottom of the page.
The state of the art Pisten Bully Paana groomer lays down both a skate lane and classic tracks on most of our trails. The narrower, more remote trails are just six feet wide and are groomed by a new (2017) Arctic Cat Bearcat work sled pulling a Ginzu Groomer and track pan.
Snow is made typically during the first good cold snap in November to assure plenty of good early season snow on the learn to ski area where it gets lots of hard use.
The 2 kilometer lighted ski trail is open on Thursday nights during the ski season from dusk to 7:30 PM.
Homemade soups, rolls, crepes and cookies are served on weekends, holidays and holiday weeks. There is soda, beer and wine, too. The menu changes, but here are a few of the favorites, Sausage Artichoke, Mexican Black Bean, Chili, Corn Chowder, Potato Leek, Gingered Carrot and Squash soup, to name a few, and there are more too. Its $7.50 for a bowl of soup and a homemade roll. Crepes are $6.-.
The ski shop offers rental ski equipment and snowshoes. The equipment is all high end gear and both skate and classic equipment including Atomics Skin-Tec skis are available. There also is the latest new ski equipment for sale from Atomic, Salomon and swix. There is ski wax from Rode and Swix and clothing from Sauce, Ibex, Toko and Swix
Ski Rentals for adults are $20, Junior's $12
Snowshoe Rentals are $15
Trail Passes for adults are $15, Juniors $8
Cross country ski lessons are a specialty. We can get you started with an hour long introductory lesson or we can work with you refining your classic or skate technique and make you a better skier. All our instructors are experienced skiers including some that are either a USSA Level II coach or a former member of the US Ski Team. Group lessons are $35/hour, Private Lessons are $65/hour
The Elementary School Ski Program provides cross country skiing and instruction to area schools including, Butte, Ramsay, Anaconda, Whitehall and Cardwell. To learn more click on the photo link.