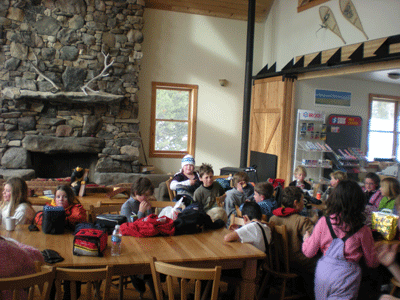 Ages: 5-12
When: Saturdays at 10:30AM beginning January 6th and ending March 3rd 2013. Practices will last around 1 1/2 hours depending on weather.
New for 2013: additional practice on Wednesday's after school. We will meet at 4pm and ski under lights towards end of practice. Whoohoo!
Equipment: Bring your own or Homestake Lodge will provide equipment at an additional charge of $50 for the season. This means any time you choose to come skiing, you can use this equipment.
Cost: $80 (Saturdays only)
$130 (saturdays and wednesdays, 8 year olds and up)
Practices will be primarily classic technique for the younger kids. We want to get the kids comfortable on skis by learning basic skills, playing lots of games, and going on ski adventures. For the older kids 8+, we will split the time between skate and classic technique. For the more ambitious, there is a race in the end of February in Bozeman that the kids may participate in if they are interested.
Elementary School Days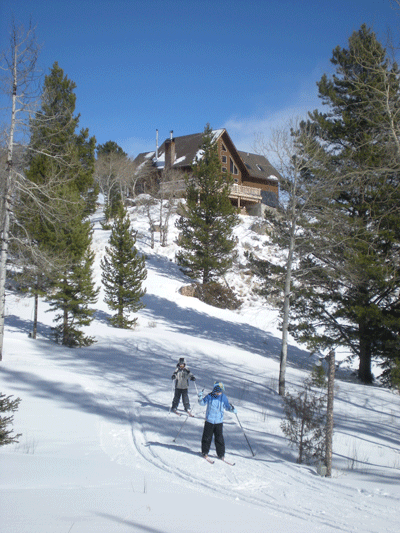 During the school week, we have schools bring their 4th and 5th graders up to the lodge to learn about cross-country skiing. A typical day is the bus arrives around 9am and kids are outfitted with skis, poles, and boots. Some teachers prefer to split the group into 2 and while one group gets a lesson on skis with instructors, the other does a snow science lesson with their teacher. After about an hour, we switch groups. The kids go in for lunch around noon. In the afternoon, we jump back on skis and go for an adventure tour around the trails. The day ends around 2:30pm and the kids load the bus and get back to school.
We have had great success with this program in the past. The kids seem to enjoy learning a new winter activity. We have had kids from many different schools participate: Whitehall, Butte Silver-Bow Montessori, Helena, and Harrison.
Women's Intermediate Skate and Classic Group
This group is for women interested in getting together once a week in the evening to learn technique and get a workout in. In the early winter, we will be using the lighted ski loop and headlamps. Ability level is not really an issue so dont be shy. We love newcomers. If you are a complete beginner and never been on skis before, it may be best to take a lesson first so we can assess your ability.
Time: 5pm
Day of week: TBA
Cost: $50 with a season pass, $100 without season pass
Men's Beginner/Intermediate Skate and Classic Group