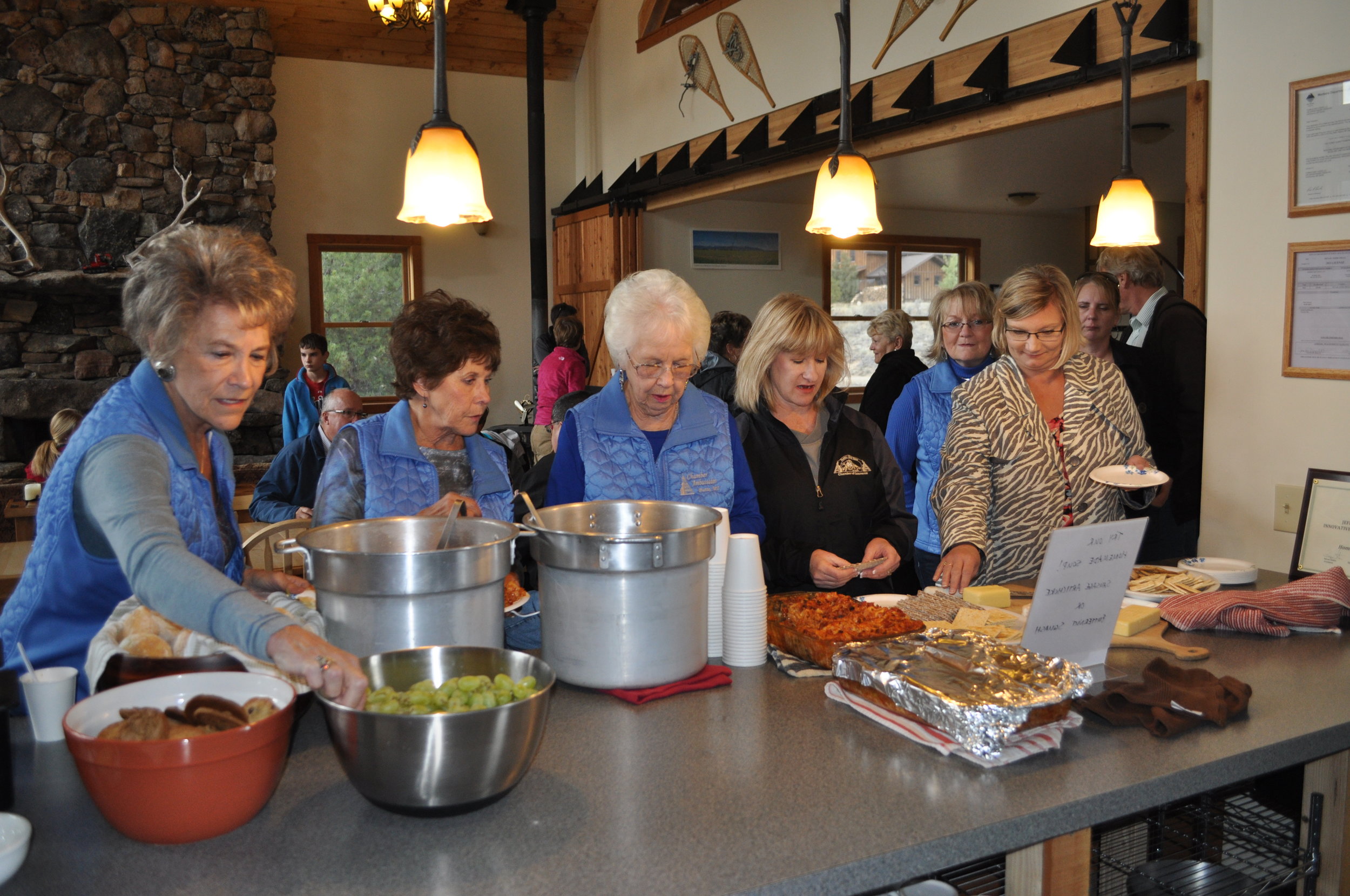 Homestake Lodge is an ideal location for a relaxing, quiet retreat or a loud, boisterous family gathering. The lodge sits atop a knoll looking out over the Moose Creek drainage. We sit in a little valley surrounded on all sides by beautiful Montana mountains. We have 160 wooded acres with a few gorgeous meadows. The rest of the property surrounding us is National Forest. It is a very peaceful spot situated on the Boulder Batholith in SW Montana. We are a 20 minutes drive from Butte, Montana and 10 minutes from I-90.
The lodge is the ideal place for a group gathering, family reunion or retreat. The lodge can sleep 20 in two family style bunkrooms and has a large commercial kitchen. Groups can easily come in and get comfortable in the space. Bathrooms and showers are on the lower level of the lodge. The kitchen, great room, small bunkroom, and bathroom are located on the main floor, and second floor has the large bunkroom. The Great Room has a massive stone fireplace surrounded by a couch and comfy chairs. There are 2 long dining tables which seat 12 at each table. A smaller room off the main Great Room is an empty space (during the spring, summer, and fall) and can be used for any number of activities.
Additional Lodging includes three cabins which sleep 2, 4 and 6 people. The cabins are located a short walk from the lodge. The yurt is located about 1km from the lodge and during the summer and fall can be driven to. The yurt sleeps 5-6. See additional info on lodging page. Dogs are welcome in one of the cabins and yurt but not the main lodge. See the lodging page for more information on our accommodations.
Here is a partial list of business entities that have used Homestake Lodge for its gatherings: Montana Conservation Corps, Hopa Mountain, Shift Empowerment, St. James Hospital, Americorp Energy Corps, Americorp Food Corp, Jesuit Volunteer Corps, Headframe Spirits and the National Center for Appropriate Technology.
If you are considering Homestake Lodge for a group gathering, please call us to discuss your needs and we'll be happy to answer your questions.
The cozy Great Room has plenty of comfy seating with overstuffed furniture that is great for lounging. The fireplace and wood stove provide warmth on cold days. There is seating for 24 + at two large dining room tables.
Two large dining room tables seat 24+ persons. The deck overlooking the valley provides tables and chairs for 12 people. There is a grill on the deck. The kitchen is equipped with place setting for 35. For those doing their own cooking the kitchen has pots and pans and all the small wares needed for most routine cooking
Homestake Lodge provides a menu to all groups who wish to have any meals prepared. We cook breakfast, lunch, and dinner in our state licensed commercial kitchen or if you wish you can do your own cooking. Meal preparation is by request and needs to be approved in advance of your stay. Check out our new menu! We cook for groups of 15+ people.